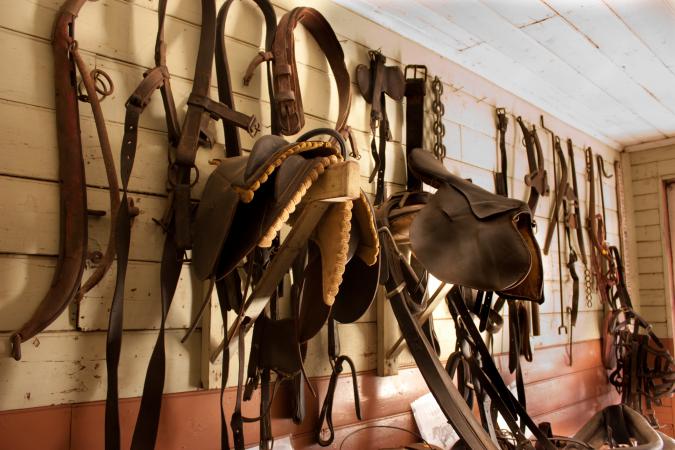 For a beginning horse owner, the large quantity of equine-focused products available can be overwhelming. However, if you focus on the basic tack you will need to own a horse, you'll find the choices less overwhelming.
Saddles
Your style of riding will help dictate which saddles will work best for you. Riding styles include Western, English, Dressage, Hunter Jumper, Cross Country, Rodeo, Barrel Racing, Eventing and trail riding. English saddles are shallow and don't have a saddle horn while Western saddles feature a deep seat with a high cantle as well as a saddle horn to help the rider stay comfortable over longer periods of time.
For Western Riding
For English Riding
Cinch (or Girth)
The cinch or girth is used to hold the saddle in place. Sometimes it comes with a saddle or you can purchase them separately. It attaches to the saddle and wraps around the horse's girth to keep your saddle from moving. Many come with extra cushioning to keep your horse comfortable. People typically refer to the cinch when talking about Western riding, but the names can be used interchangeably.
Cinch Options:
Saddle Pad
Saddle pads are placed underneath the saddle. These give the horse a layer of protection from the saddle and can be used as a decorative statement, especially if you are involved in specialty riding. Pick a saddle pad that works with your type of style of riding.
Saddle Pad to Purchase
Stirrups
Stirrups are where you place your feet while riding. They come in different shapes and weights depending on your style. English stirrups are typically thinner and made out of metal while Western stirrups tend to be bulkier and made out of leather.
Stirrup Options
Headgear and Bits
Headgear includes hackamores and bridles. Bridles typically use bits that some riders note offer more control. Hackamores or bitless bridles control the horse with pressure on the noseband, instead of inside their mouth. There are many bit options and the most common are snaffle and curb bits.
Headgear and Bit Choices
Horse Handling Supplies
It's important to have a good lead rope and halter on hand. You will use these supplies when you tack up your horse, while grooming your horse, and when your horse has a vet or farrier appointment. These supplies offer you control while you are on the ground beside your horse.
Halters
Reins
Some headgear comes with reins while others will need to be purchased separately. Reins come in different styles such as loop, split, double, romel, draw, long and mecate. Loop reins can be used while riding English or Western style while split and romel are typically just used for Western-style riding. Double reins will need to be used with a double bridle. Draw reins attach to the bottom of the saddle which gives the rider more control, and long reins are used for driving. Mecate reins use a bitless bridle and have one long rope attached that can be used for leading as well as riding. However you decide to ride, finding reins that feel comfortable to you is crucial.
Western Reins
English Reins
Finding High-Quality Tack
The initial cost of a horse can cause some sticker shock, but rest assured that many of the big-ticket items are a one-time purchase. Take your time and find tack that helps you properly care for your horse while enjoying the time you spend with her.